Newsday has an online poll that deals with the debate on the Lower Manhattan Development Corp. and their plan to put the International Freedom Center on the Trade Center site.


Lower Manhattan Development Corp. had asked to be submitted by Thursday, said the Freedom Center would have exhibits dedicated to "the international outpouring of solidarity and sympathy for the victims of Sept. 11"
Bull. The IFC will be a tribute to the "blame America first" crowd and no ammount of sweet talk from the LMDC can hide that fact. Go to Newsday and vote in their
poll
. From the results so far, it looks like the LMDC's plan is not too popular.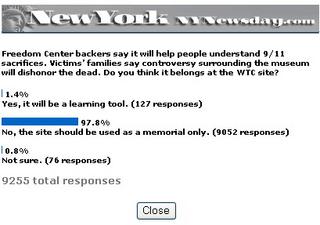 (results as of 4pm EST)
Other Links
Confederate Yankee
Committees of Correspondence